Restaurant
Flagship of the Cala Azzurra Village, in Vieste, is its Restaurant, the Ebbrodiblu, made taking inspiration by the famous novel "Oceano Mare" by Alessandro Baricco, who talks about a inn on the beach that seems to merge with the sea.
The Ebbrodiblu restaurant in Vieste is made in white wood, stone and glass and its special architecture seems to float on water. Our Guests will even appreciate our cooking that can satisfy all their tastes.
The bar has tables right upon the dunes, where there is also a little bookcase with books in different languages: one can take it for free and read it while tanning. There are also hammocks, chaise-longues and a canopy bed, where to rest and enjoy marvellous sunset and make once more romantic your holidays in Vieste.
The Ebbrodiblu often organizes, at evening, live music events with jazz music or bossanova concerts.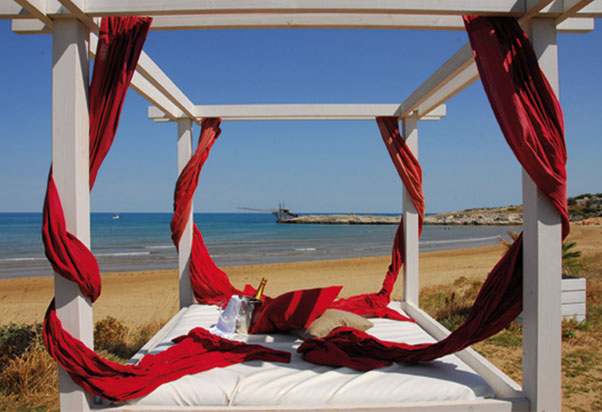 The Cala Azzurra team offers you, in the course of the whole season, so many deals to be seized in order to live a wonderful vacation on the Gargano, without spending a fortune!
Our offers are addressed to a wide audience: check this page often, we are confident that you will find the one that best suits your needs and thanks to which you can also spend a wonderful holiday here at the Villaggio Cala Azzurra Vieste!
Contact Now

"Week of September fairytale "- It was a week in September fabulous holiday. The weather conditions were perfect fortunately. The village is certainly a level with excellent location, very nice pool...
Sabbia260272 • Italy

"You return "- Back in September to Cala d'Azur and it went very well. Cala is the sea with spacious villas with air conditioning and practically on the beach. green lot and pool area improved with new very beautiful garden area...
Daniela S. • Italy